From Disappointment To Reappointment: How Long Will NFF Romance With Randy Last?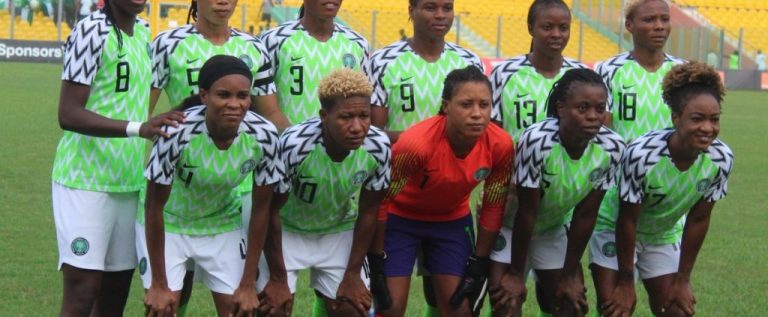 By Amaechi Agbo
Between 2016 and 2017, precisely 18 months period, two coaches rejected the offer to coach Nigeria senior male and female national teams, Bestchoicesports.com.ng editor, Amaechi Agbo, writes.
While French coach, Paul Le Guen turned down the offer by the Nigeria Football Federation to head the Super Eagles, three-time Africa's king of football, Randy Waldram, an American coach, rejected his appointment as the head coach of the Super Falcons in 2017, respectively.
However, while Paul Le Guen's rejection could have been confined to history book, at least for now, the NFF Monday announced the reapportionment of Randy as the Super Falcons coach.
The appointment has generated reactions across the football fraternity with many questioning the rational for the re-engagement of Mr Randy after his initial rebuff.
In October 2017, Mr Randy rejected his appointment as the coach of the most successful national women's team in Africa in preference to another coaching offer by the University of Pittsburgh.
The NFF then expressed disappointment that Randy Waldrum rejected the chance to become coach of the women's national team.
Waldrum and the NFF failed to agree terms for the American to succeed Florence Omagbemi in the role, despite an announcement from the federation in October.
The 61-year-old opted to accept a new role as the head coach of the University of Pittsburgh women's team.
And former NFF Technical Director, Barrister Chris Green reacted this way "I'm quite disappointed that Randy Waldrum was appointed and he decided not to come.
"I'm actually disappointed in the fact that I thought we had a good coach in him."
Green explained why Waldrum had changed his mind and admitted some of the blame must lie with the NFF.
"He said in his letter [to us] that from when the [NFF] president gave him the job, they did not do anything or contact him any further," he added.
"It doesn't speak well of Nigerian football that after the Paul Le Guen saga this one is happening again, it doesn't tell well, but what can we do? We just have to learn and move on.
NFF official Chris Green
"There are other things that are required like signing the contract itself, working conditions and all the basics that parties have to agree to – nothing was done.
"He was left in limbo and said he has to feed his family, but (we're) extremely disappointed that we've lost out on another coach."
"It is the second time in 18 months that a foreign manager has rejected a coaching offer from the NFF, after Frenchman Paul Le Guen rebuffed the chance to handle the Super Eagles in July 2016," he had said.
But Green apologised and admitted shortcomings by the federation as they have failed their women's team – Africa's most successful national side – once again.
"Nigeria is a great country with abundant talent for anyone to want to coach, but on our own part [as administrators] there are many things we should have done that are left undone," he admitted.
"Administratively, that is not how to get things to work out for an organisation like the NFF or in football generally because things are changing in football with new dynamics.
"It doesn't speak well of Nigerian football that after the Paul Le Guen saga, this one is happening again – it doesn't tell well, but what can we do? We just have to learn and move on."
Yet on Monday, October 5th, with array of local coaches who are willing and ready to take up the job at any price, were left in the doldrums after NFF opted to reappoint him.
What baffled many was the wasted time it took the NFF to engage a coach that was not new to the federation and with less pedigree than some local coaches in the country.
Waldrum, an American who played as a midfielder, has worked largely within the American women football circle and was head coach of the Trinidad and Tobago national team between 2014 and 2016.
He will work with former Super Falcons' goalkeeper and captain Ann Chiejine, who is the first Assistant Coach, while Wemimo Mathew Olanrewaju will serve as second Assistant Coach and Auwar Bashir Makwalla will be goalkeepers' trainer.
President of the Nigeria Football Federation, Mr. Amaju Melvin Pinnick thanked Philips Consulting, the executors of the recruitment process, and said he has confidence that the new technical crew will take the Super Eagles to brand new heights.
Green's comments about the women's game in Nigeria come just a few weeks after NFF president Amaju Pinnick told BBC Sport the federation's focus would now switch to the women's team.
Nigeria are the only African team to have played in all of the Women's World Cup tournaments since 1991.
But they have failed to translate their continental dominance on the world stage, as their best performance came in the USA in 1999 when they reached the quarter-finals.
With this development as well as Mr Randy not having a better pedigree than most Nigerian coaches some of who have distinguished themselves with national teams and club sides in the country, is Amaju Pinnick and his board right to engage an average coach for the Super Falcons?
The same way they engaged German Coach, Gernot Rohr in 2016 and used the Super Eagles as a rehabilitation centre to relaunch the former trophiless coach into global football arena, so much so we have a similar scenario before us.
The fact remains that any dumbest coach from anywhere in the world can succeed in managing either of the senior national teams with relative ease because Nigeria has the array of talents to make a rooky coach great.
For instance, Thomas Denneeby was employed in 2017 and worked for two years but left acrimoniously after he cited undue interference by NFF officials in his work.
The Swedish made no significant impact on the team than Nigerian coaches had done in the past. He won the 2018 Africa Women's Cup of Nations, AWCON but failed to go beyond the Round of 16 stage of the 2019 FIFA Women's World Cup in France.
Nigeria first achieved that feat in 1999 when she appeared in the inaugural edition of the competition and have never missed any edition.
With a team that has not assembled for over a year and played no match, and considering how low the were after they failed to qualify for the 2021 Olympic football event in Tokyo, Japan, how safe are the Falcons in the hand of Coach Randy?