Goriya United FC Emerge Champions Of Othman Bala Football Tournament In Nasarawa State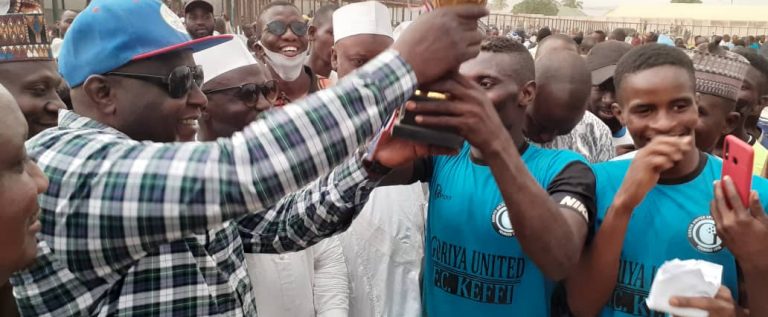 A maiden grassroots football competition organized in honour of the Nasarawa State Commissioner for Youth and Sports Development, Hon. Othman Bala Adam, by the Keffi Amateur Football Association, KAFA, has ended in Keffi Local Government Area of the State.
Goriya United Football Club emerged Champions after pipping hard-fighting G.K FC by 1-0, courtesy of a sublime strike from Ayuba Idris, fifteen minutes into the second-half, at the Keffi Township Stadium, on Saturday afternoon.
During the presentation of prizes to the finalist teams, the Commissioner, Hon. Othman Bala Adam, congratulated Goriya United FC for emerging victorious, even as he applauded all the participating teams in the tournament for exhibiting maturity and sincerity of purpose during the entire duration of the competition.
The Commissioner, however, admonished the budding athletes to do all they could to excel at their chosen football career while prioritizing their academic pursuit.
"Take your football career seriously, but at the same time, combine it with education because that is what you will fall back to when the chips are down.
"Learn a skill through your God-given potentials so as to be able to compete favourably with the trending nature of the world.
"Avoid any act that will tarnish your dreams, and choose good role models, like one of you, Sunusi Ibrahim, who is already in Canada plying his professional football career.
"And when you hold onto this piece of advice firmly, the sky shall be your starting point."
Othman Bala Adam who was a former State legislator revealed that the administration of Governor Engr. Abdullahi Sule has set up plethora of youth-related programmes, and intends to do more, to better the lives of youth in the State, calling on them to key into such laudable programmes in order to add value to their lives and their immediate communities.
For emerging Champions, Goriya United FC were presented with a giant trophy, a brand new set of jerseys, two pieces of football and cash prize, while runners-up, G.K. FC, went home with a brand new set of jerseys, one ball and cash prize, even as Reservoir FC who, earlier, won the 3rd-place play-off, 6-5 on penalty shootout against Marrow Academy after regulation time ended 1-1 apiece, got a set of brand new jerseys and cash reward, whereas 4th-placed Marrow Academy received a piece of football, all courtesy of the benefactor, Hon. Othman Bala Adam.
Thirty-two teams within Keffi Local Government Area participated in the one month-long competition which kicked off in March, 2021.