How Asisat Oshola's Demand For Equal Traveling Arrangements With Super Eagles Cost Her Falcons Captaincy
1,486 total views, 1 views today
By Agency Report
Facts have continued to emerge on the stripping of reigning Africa Women's Footballer of Year, Asisat Oshola of Super Falcons' captaincy last week.
News broke on Friday that the Nigeria Football Federation, NFF have relieved the FC Barcelona Femini striker of her responsibilities bas the leader of the team.
The news came before the team took on Canada women in a friendly match in Saturday morning with Oshola not part of the team.
The former Arsenal player who succeeded Desire Oparanozie in acrimonious circumstances as Falcons captain on November 17, 2019 was accused of lack of commitment to the team.
An insider within the NFF told TheCable that the top brass of the federation made the decision after considering Oshoala's recent inability to replicate her club form in the colours of Falcons where she last scored in February 2021 against Equatorial Guinea.
With FC Barcelona, the Nigerian star striker has bagged 19 goals in the last 16 games.
The source said it was adjudged that the captain band is "weighing her down," hence her below-par performance for the national team adding that her demand for equal traveling arrangements with the Super Eagles was another reason she was removed as captain
The four-time African footballer of the year was also said to have made demands that the head honchos at the NFF found excessive.
"The past seven games that she played for Nigeria, despite the fact that she was scoring goals for Barcelona, she didn't score a single goal for us. Not only that, her performance was awful in each of those games," the insider told TheCable.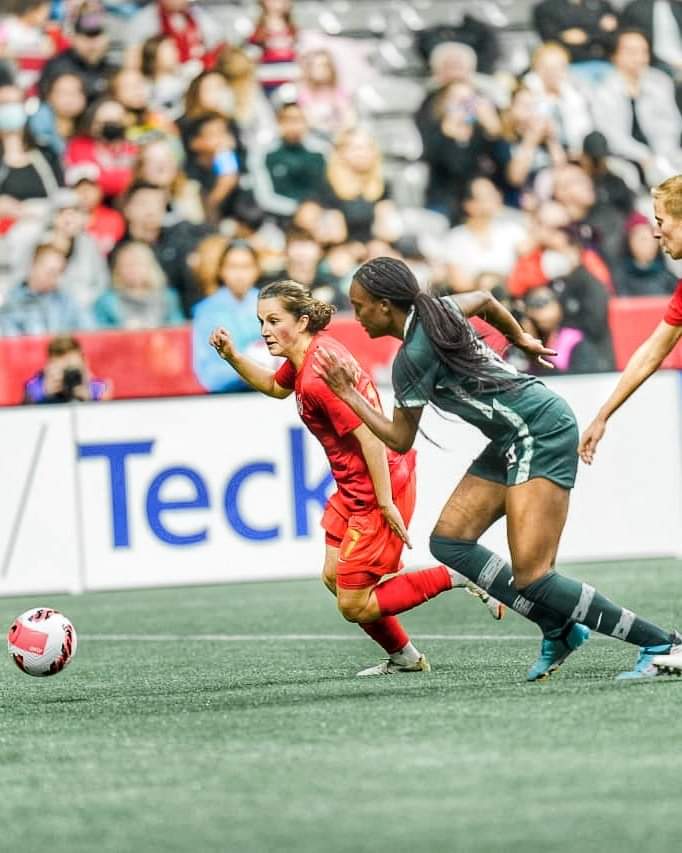 "This development made the powers feel like that captain band is weighing her down, because if you're doing well for your club you can't replicate it for your country, then there must be something wrong.
"Also, she became something else, really. Demanding this and that. Insisting there should be the same travelling arrangements for Falcons and Super Eagles. She became something else."
The 27-year-old became the team's captain in 2019 after Desire Oparanozie was stripped of the position over alleged dissent in the wake of the 2019 FIFA Women's World Cup.
Out recuperating from a knee injury, Oshoala was not included in the 25-member squad named by Randy Waldrum, Super Falcons head coach, for the two-legged international friendly matches against Canada.
Onome Ebi captained the team for the first leg of the encounter on Saturday night which they lost 2-0.
The second leg will be played on Tuesday at Langford's Starlight Stadium on Vancouver Island.
TheCable Credited.