Mavlon FC Continues European Tour With Improved Performance Against FC Makedonia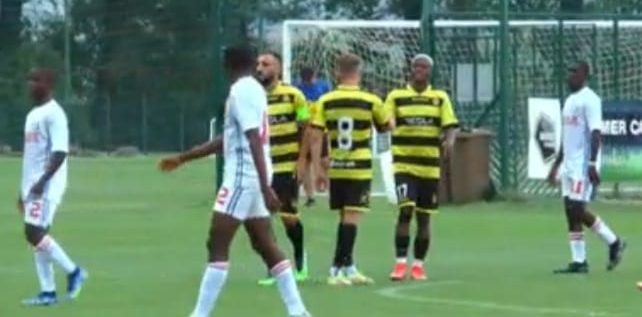 1,044 total views, 9 views today
By Ebube Dike
Nigerian club side, Mavlon FC continued their European Tour exercise in Bulgaria improved performance as they engaged FC Makedonija in a friendly game on Saturday evening.
Mavlon FC were compact in the midfield and created some goalscoring opportunities, unfortunately could not be converted into the net.
As half time drew closer, the centre referee adjudged that Mavlon defender had committed an offence inside the box against FC Makedonija and spot kick was awarded to the European side. Although, it looked like a dive from the striker.
However, the resultant penalty kick was well taken and it was 1-0 deficit against Mavlon, going into the break.
On resumption, Mavlon continued from where they stopped in the first half. The team had more of the ball possession against their more illustrious opponents and when it looked as if an equaliser was in sight for the Nigerian side, a quick counter attack from Makedonija saw them conceeding the second goal
Football can be cruel sometimes, as the scoreline 2-0 deficit against Mavlon was not actually the true reflection of the game, nevertheless, football game is determined by goals.
FC Makedonija took game further the reach of Mavlon FC when a well struck freekick was too hot to handle by the goalkeeper and the rebound was quickly jabbed into the net to make it third goal a minute to full time.
The learning experience continues for Mavlon with another friendly game against FC Levski – Krumovgrad at Evima football field, Bansko, Bulgaria on Sunday.