Nasarawa State Ministry of Sports Perm. Sec. Barr. Danladi Receives Distinguished Merit Award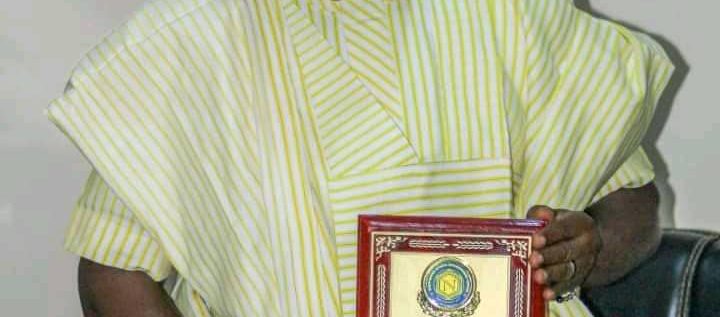 813 total views, 3 views today
By Eche Amos
Barely a month since assuming office as Permanent Secretary at the Nasarawa State Ministry of Youth and Sports Development, Chief Barr. Isaac Danladi has been presented with a Distinguished Merit Award as "An Icon of Societal Development".
Management officials of Nyiev Nation Sports International Limited presented the award to the Permanent Secretary at his office on Tuesday in Lafia.
According to the Chairman and Chief Executive Officer of the Organization, Raphael Patrick Ikyaahemba(Personnel of the Nigeria Navy), the award was in recognition of the immense and continuous contributions of Danladi towards the growth and development of sports, youth engagement cum upliftment and selfless service to humanity.
"We firmly believe that sport has the power to transform lives, instill discipline and empower young people to become leaders, on and off the field, roles, we noticed, you have been playing over the time.
"We have been following all your wonderful achievements in sports, especially football, through your Public Relations Officer who is a friend, our Media Consultant, and colleague in the Barracks, and we cannot but appreciate your dexterity, commitment, innovativeness and poise to change the society through sports.
"No wonder His Excellency, the Executive Governor didn't hesitate to appoint you to lead this pivotal role."
He further noted that the visit was to congratulate the Permanent on his recent appointment, familiarize with him, and seek mutually beneficial synergy with the Permanent Secretary and Ministry, going forward.
Raphael disclosed that his Organisation, duly registered with the Corporate Affairs Commission and affiliated with the Nasarawa State Football Association, is an intermediary of the Nigeria Football Federation, NFF, and focuses on sports, education, entertainment and other endeavours.
He pleaded with the Permanent Secretary to use his wide network and expertise in the Youth and Sports Sector to enable Nyiev Nation Sports International Limited actualize her goals for young and talented individuals in the State.
In his reaction, the Permanent Secretary, Chief Barr. Isaac Danladi, appreciated the Organisation for the visit.
He commended the Management of Nyiev Nation Sports International Limited for considering him worthy for the award
"I thank you for coming to felicitate with me on my appointment and to encourage us.
"I am just about one month in this Office, and I was wondering why i should be given an award,but from what is written on the award, it shows it's a well-deserved recognition because I have put in over three decades in football and sports administration both in plateau State, Nasarawa State and Nigeria.
"I have been involved in virtually every department of football administration in Nasarawa State, and I have held several sports offices in the country as well.
"I will forever cherish this award while I see it as a booster to do more for the sake of my State and humanity in general because to whom much is given, much is expected."
Danladi who pledged to exhaust all avenues to collaborate with Nyiev Nation Sports International Limited to attain its set goals, dedicated the award to God, the Executive Governor, Engr. Abdullahi Sule, citizens of Nasarawa, as well as Management and Staff of the Ministry.