REVEALED: How Cabals Removed Dalung, Ogbeh, Others' Names From Ministerial List Without President Buhari's Knowledge
585 total views, 3 views today
Fresh facts have emerged how some powerful individuals in the Aso Rock Villa reportedly removed some names from the ministerial list and replaced them with their own candidates without the consent of President Muhammadu Buhari.
Recall that Buhari, on Tuesday, forwarded a list of 43 ministerial nominees to the upper legislative chambers of the National Assembly for onward consideration.
TheNigerian news have authoritatively gathered from a reliable source that Nigeria's seat of power was thrown into frenzy shortly after the names contained in the ministerial list became public knowledge as Mr Buhari discovered that the list he had endorsed to be submitted had been tampered with by some desperate individuals to serve their selfish ambition.
The aid who spoke to TheNigerian political correspondent on the condition that his name is concealed as he was not permitted to speak on the issue, further revealed that President Buhari was taken aback by this shameful scheme.
"The President was very angry," our informant muttered.
"At first, we thought it was all media speculation until the president sought and got a copy of the list from the Senator Lawal (Senate President) and discovered that most of the names had been changed."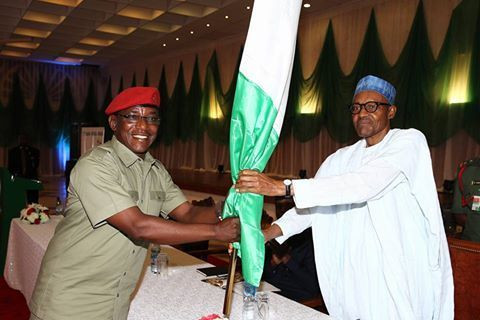 The source added that the president was disappointed that the names of the persons like the immediate past minister of agriculture and rural development, Chief Audu Ogbeh, Solomon Dalung his trusted and fearless supporters and that of his long-time friend and military colleague, Gen. Jafaru Isa rtd. and also that of his long-time ally, Bello Al-adam were smartly removed. While Ogbeh was removed entirely and the slot was taken to Anambra state to accommodate two ministerial nominees from the state leaving Benue state with only one
The source also disclosed that the President on discovering of the scam, had summoned some persons who were allegedly believed to have carried out the act to show course why the list was altered without his approval. Thenigerian news investigation revealed that while the cabal had no tangible explanation for Jafaru Isa's exclusion, they told the President that Chief Ogbeh rejected the offer when he was consulted hence the need to replace him with another candidate.
When TheNigerian correspondent asked the source the next action of the president, he replied that "remember that the President has expressly stated that he does not want to be given names to serve in his cabinet by individuals or party in this second tenure so expect some minor changes before the eventual confirmation of the nominees".
Asked if Chief Ogbeh, Solomon Dalung and Jafaru Isa would be returned to express the wishes of the President, the source urged TheNigerian correspondent to be patient and allow events naturally unfold.
The source also told TheNigerian correspondent that those names were just an example of how many others were removed without the consent of the President who is particularly unhappy about the removal of Ogbeh, Solomon Dalung and Jafaru Isa's among others from the list