Team FCT Ends National U-12/U-15 Handball Championship On High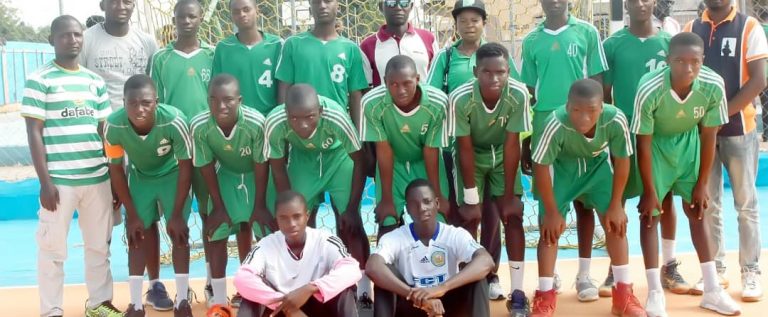 1,941 total views, 3 views today
By Amaechi Agbo
Team FCT to the 3rd edition of the National U-12/U-15 Handball Championship in Sokoto State, North-West Nigeria have ended the grassroots championship on a high.
The Team FCT made up of three teams, U-12/U-15 male categories and U-12 female team ended the tournament second overall best team.
The U-12 female came second in the Female category after they won two matches and lost two.
With only three teams participating in the category, the group played round robin format in which the FCT team twice lost to host State but won their two matches against C&S FPS Academy of Kwara State.
Their U-12 male counterparts also came second in the male category while the U-15 male team could not scale through the group stage of the tournament.
The U-15 male team FCT lost to Sokoto Rima and drew against Suleja Shooters, the results of which were not enough to push them into the knockout stage as they exited via goal difference.
Amaka Ogbonna Of Team FCT won the Highest Goal Scorer's award for U-12 female category with 24 goals while her brother, Shedrack Peter won the Most Valuable Player for U-12 male category
The 2022 National U-12/U-15 Handball Championship ended on Sunday, 4th September with host State, Team Sokoto winning all the categories
In a colourful closing ceremony which was graced by His Excellency, the Governor of Sokoto State, Alhaji Aminu Tambuwal, the state team Sokoto Rima showed why handball is huge in the state ensuring they reign supreme over other teams in the categories played
Team Sokoto came top in the U-12 male category with an exciting FCT team coming distant second and C&S FPS from Kwara coming third.
In the U-12 female category, it was the same way as Sokoto Rima came top with FCT in second and C&S FPS third.
In the U-15 male Category, Sokoto defeated Kebbi 20-8 to ensure they win the category with Kebbi coming second and Caliphate Academy of Sokoto third.
In the female U-15 category, Sokoto topped the category with C&S FPS second and Kebbi third.
Below is the full rankings of the teams
U-15 Male
1 Sokoto
2 Kebbi
3Caliphate Academy
U-15 Female
1 Sokoto
2 C&S FPS Academy
3 Kebbi
U-12 Male
1 Sokoto
2 FCT
3 C&S FPS Academy
U12 GIRLS
1 Sokoto
2 FCT
C&S FPS Academy
Highest Goal Scorer
U-12 (F)
No. 2, Amaka Ogbonna FCT (24 GOALS.)
U-12 (M)
No. 5, Abdulmumuni Ya'u C&S FPS ( 27 GOALS)
U-15 (F) No. 4, MONICA OPARA SOKOTO RIMA ( 25 GOALS)
Best Goalkeepers
U-12 (F) No. 1, Franka Abutu Sokoto Rima
U-12 (M) NO. 12, Abdulrahaman Isah
Sokoto Rima
U-15 (F) No. 12,
Damilola Adebisi Sokoto Rima
U-15 No. 12,
Musa Hassan Sokoto Rima
Most Valuable Players
1 U-12 (F) No. 5,
Faith Matthew
C&S FPS
U-12 (M) No. 20,
Shedrack Peter
FCT
U-15 (F)
Monica Opara
Sokoto Rima
U-15 (m)
Moses Chucks, Kebbi State
Team FCT returned from the competition on Monday.