Fans Lambast Akwa United After Appeal For More Support Ahead Of New NPFL Season
3 total views, 3 views today
By Amaechi Agbo
Supporters of Nigeria Professional Football League, NPFL champions, Akwa United have lampooned the Promise Keepers after the club made an appeal for the fans' continued support ahead of the 2021/2022 NPFL Season, www.bestchoicesports.com.ng can report
In a post on its official Facebook page on Wednesday, the Akwa Ibom state onwed club thanked the fans for their "massive support" which made them become 2020/2021 NPFL Champions and called for sustenance.
"We are NPFL champions because of your massive support…let's do it again next season
#ThatSameGod," the club said.
However, the fans went to the post's comment box to register their anger and frustration against the club particularly with the way and manner it crashed out of the CAF Champions League at the first stage.
Some of the fans also criticised the club on how it handled its players after the NPFL triumph.
Obiọma Nwadike said "Champions of NPFL, poor in CAF Champions League."
Ngote Sheriki said Akwa United's show in the CAF Champions League is "true definition of local Champions"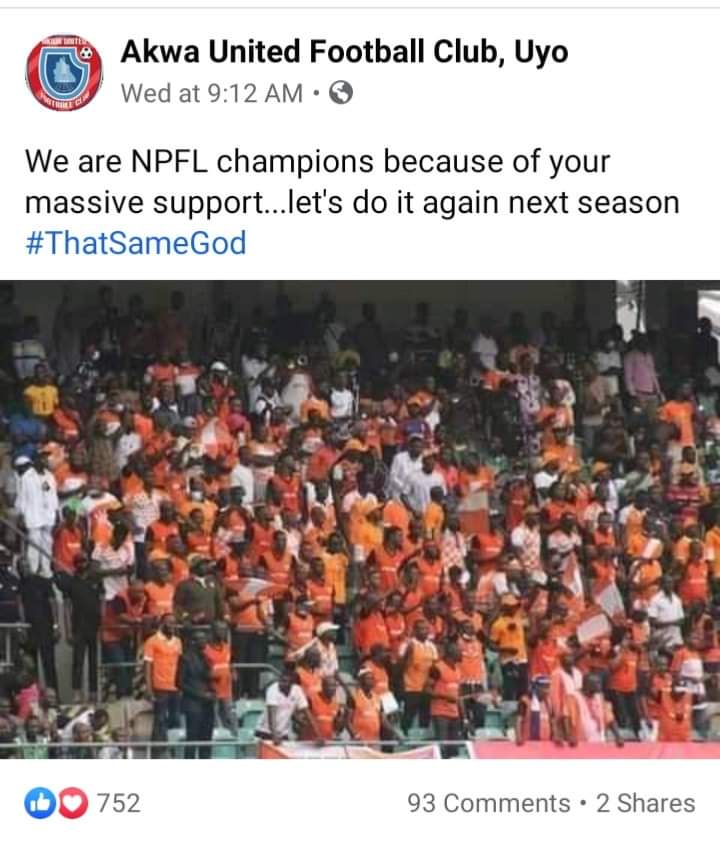 "True definition of local champions ………. Just to pass the preliminaries of champions against champions is too hard for the champions of the Giant of Africa?" He queried.
Blessing Akpabio simply said they are "Local Champion"
Otobong Inyang was different as he expressed continued support for the club saying "We'll keep supporting this Team and the Technical Crew.
"I'm sure the Team would've learnt from the recent continental woe."
Milar Obot said "Akwa United Fc our Pride"
Ekanem Aniefiok said the fans deserve apology from the club for existing the CAF Champions League early.
"I'm yet to recover from the shock of our early exit in the caf champions league. We deserve an apology!"
AbdulHakeem Bolanle Ibn-Musa questioned how the champions could not scale through the preliminary stage of the Champions League.
"Go sit down, You don't reciprocate our support for you at all
"How can you not for the umpteenth time not being able to scale through the preliminary of the CAFCL?"
Bldr Nsidibe Nduenso accused the club for dropping players hence their short ride in the continental league.
"After dropping player anyhow, what do u think that u guys will do next season thunder f*** unah there."
Amb Wisdom Samuel appealed to the team to change tactics ahead of the new season
"Change your tactics, if you want to maintain the title, not what you played against Belouzda in CAF,"
Ubong Ebong simply said "More 🏆 trophy ahead"
The League Management Company, LMC is yet to announce a date for the new season but it is speculated that hostilities will resume in the new football calendar  in October.