Former Wikki Tourist Chairman Exposes Match Fixing In NPFL – Katsina United, Kano Pillars, Others Fingered …It Is Conspiracy, Mischief – Jada
4,774 total views, 3 views today
By Amaechi Agbo
With no date yet for the commencement of the Nigeria Professional Football League, NPFL new season, former Wikki Tourist Football Club of Bauchi Chairman, Auwal Baba Jada has disclosed how he fixed matches in the Nigeria elite league.
Mr Jada, a member of the newly inaugurated Interim Management Committee, IMC to orgarnise the league, in a video trending on social media, said the only club he cannot manipulate is MFM Football Club of Lagos.
The church-owned club was among four clubs relegated from the NPFL to the Nigeria National League, NNL, last season.
Mr Jada was the chairman of Wikki Tourist FC, a club in the NPFL until he was replaced by Alhaji Balarabe Yusuf in March 2020
In the viral video, the former Head of Competitions, Nigeria Premier League, spoke in Hausa language and his words are translated thus
"Katsina (United) were defeated here in (Bauchi), I had to insist to see the Governor (of Bauchi) to ensure that Katsina (United) defeated is here even with their eight million (Naira)
"I made them lose. We were the ones that influenced Kano Pillars to defeat Shooting Stars in Kano because we want Lobi (Stars) to survive (relegation)."
He went further to bring God into his match-fixing prowess, "Between me and Lobi (Stars) only God can come between us and can do anything for them.
"Any town that has premier league (club) … aside MFM (lagos), that's the only town that I don't have any friend that I can send people to him to coordinate/help in Nigeria, there is none."
"In any town at all that has premier league some even if they don't have like for example Kwara, you know they have ABS and their boss was even here (Bauchi). So we have good relationships with people. All you need do is to go and play your game anywhere in Nigeria" he concludes.
It Is A Conspiracy, Mischief – Let Them Send The Full Video – Auwal Jaba
However, in an exclusive interview with Best Choice Sports, Mr Jada described the video as "gimmick, conspiracy and mischief" and asked those who pushed out the video to upload the full video on the internet and let justice prevail.
Below is the exclusive interview Mr Jada granted our correspondent via telephone
There is a video in the social media where you spoke about matches you fixed in the NPFL
There was an allegation that I fixed a match. The word match fixing is ambiguous. The full video of the interview was (not uploaded) and I did not fix any match. I am no more a chairman of a club only that some people asked me a question and that was why they could have put the full video for people to see and let justice play itself there.
It is just a mischief. They only cut where I responded. Some people gathered players and they asked me questions. In the process, I told them what I know. But people are trying to take it personal. These are issues that somebody was asking me that he heard that Katsina (United) brought some money in town to win a match and I said 'it can never be' Even if it warrants me to go to the governor, I will mention that. Our integrity is being defended, we will do it.
They also asked me a question that 3SC is going to beat Kano (Pillars) in Kano because they have already gone on relegation. We know that people are there watching and Kano (Pillars) will not allow themselves to lose at home. We have influential people who can defend the integrity of anybody but if eventually it was destined that the away team will beat the home team, fine. But let it not be as if they collected money to do that.
It was also alleged that you said you can fix matches anywhere except MFM matches
It is not there. I spoke in Hausa language. Go and take a good Hausa Language (speaker) that can translate it for you. That one is a totally different thing. I said I have friends all over the country which if my team is going there to play, they can assist me by accommodation, of anything that may be rendered to keep up with the match and come back.
It is not (an) issue of match fixing. That I can fix match , no no no. Ask anybody who understood (understands) Hausa very well. It is just a gimmick or a conspiracy or mischief. That was why the full video was not released there.
We will get back to you in the cause of our findings sir….
No problems, I didn't want to say anything. The details of it should not come from me. It was a public something. I was thinking that people there will want to justify what I said. Not people calling me directly because I didn't do it inside house. It was on a football pitch, playing ground. People were asking questions that Katsina (United) put money and I said it will never be.
Do you think that this will affect your membership of IMC?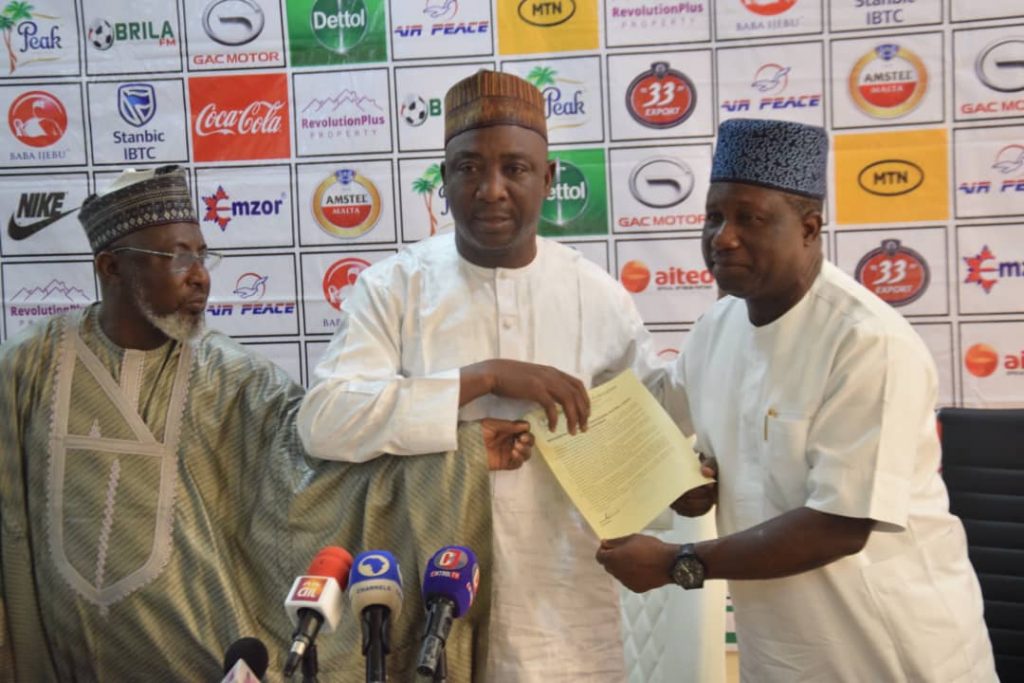 It cannot affect my membership. What has my membership got to do with this? I was formally the head of competition Nigeria Premier League.I don't influence matches but I have influential people with great integrity to protect the interest of the league anywhere.
That was why I picked interest when somebody was asking me. Somebody was asking that they learnt that Katsina brought 8 million naira to make sure that Wilki (Tourists) opens for them to win so that they escape relegation. I said it cannot be possible. Let them go and play their ball and at that material time, everybody in the country knows that the team of Wikki (Tourist) is better than that of Katsina (United) and they won the match.
Assuming I collected money from Katsina (United) to make sure that Wilki lose, and Wikki lost, then that is what you can call match-fixing.