Lagos State Gov. Sanwoolu Receives Arsenal Star Bukayo Saka In Government House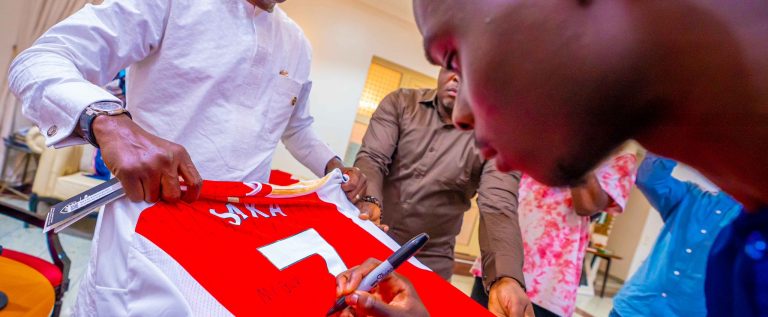 9,655 total views, 6 views today
By Amaechi Agbo
Lagos State Governor, Babajide Sanwo-Olu on Saturday received Arsenal FC of England star, Bukayo Saka in his office.
Mr Sanwo-Olu who expressed delight over the visit by Saka noted that he was excited to receive his Arsenal signed jersey from player who two years ago turned down Nigeria to play for England
"Exciting day at the State House, Marina today as I had the pleasure of hosting my favorite
Arsenal player, Star Boy Bukayo Saka.
"I also enjoyed receiving my own signed Saka Jersey," he said.
The Governor who is an Arsenal fan said he is proud of the club's "incredible" run in the just concluded Premier League season adding that Saka's exploits in the league has motivated many youths in Nigeria
The Governor who was sworn-in on Monday for his second term after winning a contentious February 25 governorship election in the state added that his administration is committed to developing grassroots football in the state
"As a proud Gunner, I'm incredibly proud of their inspiring run in the Premier League with such a young team.
"Their determination has motivated many and shown us the power of youth. We're committed to bringing that same spirit to grassroots football in Lagos.
"Together, let's create opportunities for our talented young players.
"Thank you for visiting me Bukayo and I look forward to next season," the Governor tweeted on Saturday.
Saka was in the Bariga area of Lagos on Thursday on a holiday visit to Nigeria where he will also be involved in charity works.
The Arsenal star's presence in Lagos is a major opportunity for him to connect with his Nigerian roots.
The 21-year-old was born in England to Nigerian parents, but he has always been proud of his Nigerian heritage. Saka's visit to Lagos has allowed him to connect with his Nigerian fans and experience Nigerian culture firsthand.
Saka is widely seen as one of the most promising young players in the world.
Saka scored 14 league goals to help Arsenal return to the Champions League after they ended the 2022/2023 season 2nd after they bottled their title chase towards the end of the league