Olarinoye Adenike Adijat Wins Nigeria's 2nd Gold Medal At IWF World Championship
3,972 total views, 39 views today
By Amaechi Agbo
2019 Africa Games two gold medals winner, Olarinoye Adenike Adijat on Thursday won Nigeria's second gold medal at the ongoing 2021 International Weightlifting Federation, IWF World Championship in Tashkent, Uzbekistan, www.bestchoiceeports.com.ng can report.
Adenike who won her gold in Commonwealth Championship in the tournament, also broke 20 years Nigerian history in the competition by winning a silver and 2 bronze medals in the IWF Championship.
Her gold, one silver and two bronze (silver and bronze are won in IWF Championship) all came from 55kg women category.
Ghofrane Belkhir of Tunisia won gold in the IWF 55kg Championship while Svitlana Samuliak of Ukraine won bronze
With the gold, Adenike has become second Nigerian to clinch gold medal at the Commonwealth championship after Stella Kingsley set the pace on Wednesday winning a gold medal in the 49kg women category.
Nigeria thus far have five medals – 2 gold, 1 silver and 2 bronze – in the competition.
The Technical Director of the Nigeria Weightlifting Federation, NWF, Mr Chris Nwadeih who confirmed the results on Thursday evening said Adenike won the medals with a lift of Snatch 90kg, Clean/Jerk 113kg and Total of 203kg in the category.
Adenike joins her compatriot, Stella Kingsley among the two Nigerian lifters who have qualified for the 2022 Commonwealth Games in Bermignham, England.
The 2021 IWF Championship also serves as 2022 Commonwealth Games qualifier.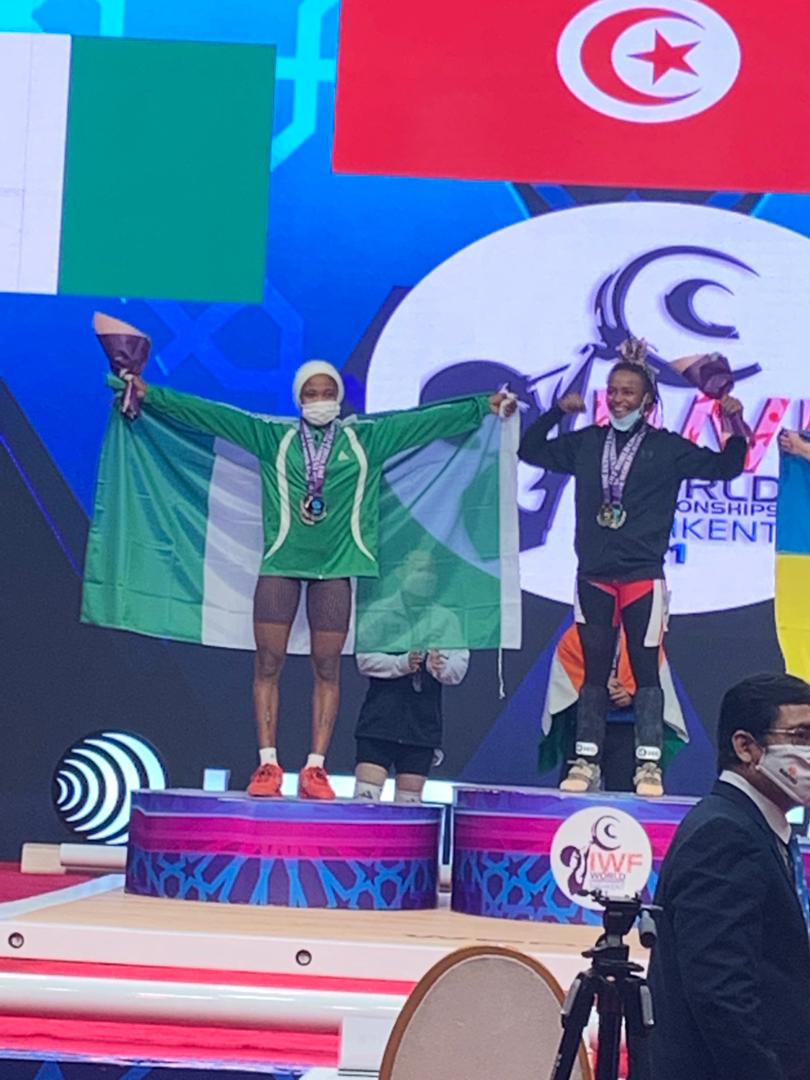 Speaking in an exclusive interview with www.bestchoicesports.com.ng from her hotel base in Tashkent, Uzbekistan after the medal haul, a visibly elated Adenike could not hide her joy as she celebrated her victories.
Adenike who could not hold backs the tears of joy on the podium as they cascaded her cheeks said she was happy that by the special grace of God and immense support of the President of Nigeria Weightlifting Federation, NWF, Dr Ibrahim Abdul and his board as well as her coaches, she was able to fulfil her dream of becoming an IWF World medallist.
"I feel really happy. Today I was so emotional. I cried all through the medal presentation. It was just so much for me and I give God all the glory. Becoming a world champion or medallist is great moment for me.
"I remain grateful to my president, my coaches and lifters with me here (Uzbekistan). It is a collective effort. We are a unit family here and everyone is supportive of the other," she said.
Nigeria is also expecting another Commonwealth Championship gold on Friday as Edidiong Umoafia could win the 3rd gold medal when his 67kg men category event is concluded.
A total of 7 Nigerian lifters, made up of 5 women and 2 men are taking part in the championship