Super Falcons Attack: Sports Journalists Lambast NFF Over Security Negligence
By Amaechi Agbo
Nigerians were early hours of Tuesday, July 20 alerted about a breach in security around the senior national female football team, the Super Falcons at their training base in Vienna, Austria, USA.
In different videos circulating on the social media space, an unidentified young man was seeing in the coach of a train with the Falcons players and officials verbally attacking them and accusing them of "supporting and representing a terrorist government."
The young man who claimed to be a Nigerian and disclosed that he was once a footballer and had played for the defunct Julius Berger, described the ladies in unprintable words and asked them to go back to their base and stop representing a "terrorists government that have been kidnapping and killing the youth."
Nigeria's FIFA Match Agent, Jairo Pachon in the release that the matter has been immediately reported to the Austrian Police and the Embassy of Nigeria, and the fellow, who was bundled out of the train at the next station, would be fished out.
"It is unfortunate. The girls were on the way to the city centre which was just a few minutes from the hotel. They entered this train and the guy got inside and started insulting them. He was bundled out at the next station and we have reported the matter to the Embassy of Nigeria and the Austrian Police. We have never had this kind of case with any of our teams and lessons have been learnt and we will be guided appropriately going forward.
Responding to the unhealthy development, the Nigeria Football Federation, NFF "vowed to unmask the culprit who tried to harass the Falcons in Austria," a development that did not go down well with a section of sports journalists in the country.
Some of them who made their views in various social media platforms particularly WhatsApp, expressed shock over the security breach around the players who were said to have been on sightseeing after their morning training.
An Oyo State based sports journalist, Sunday Agunbiade described the unknown man as a "frustrated man living in Vienna. The poor man who has been living in Vienna, paying tax, but ask him to do same in Nigeria he will shout.
"How did he mix with our national team players."
An Abuja based journalist had this to say "After exposing the team bah? The man did not commit any offence truth be told." But when he was queried on his intention,
"Why are (you) neglecting the bigger offence? Why did the NFF expose the girls? Nobody is probing but we are venting our anger on somone who is protesting against the bad government of APC."
Another female Journalist noted "It is not only wrong but dangerous. We know a lot of Nigerians abroad are more frustrated than those of us that chose to stay back home. The lives they live is tougher than what they portray on social media, so any opportunity to vent and express their anger will be taken. These girls were harassed, and bullied and you don't see anything wrong in that
"We already know that the Pinnick-led NFF is the worst we've ever had in the history of Nigerian football. That dude can't do anything right for football apart from enriching his pockets, buying luxuries, sponsoring cosmetic surgeries and comedy shows which at the end amounts to nothing – at the detriment of football, not that his acquisition is my business but dude has killed football.
"I'm not surprised the NFF put them on a public transport, they've done worse to the girls. I recall, it took an article from me to change their bus from a worn out and rickety bus some years ago. They practically lap themselves at some point…… It's a shame and they're lucky I'm not in the right position to write an article," she said.
She later posed these questions: "Why did NFF expose the girls to danger by putting them in a public bus (train)? Let's ask this question…. . What if the guy had a knife or a gun? What is the mental state of the girls now? Is anyone concerned? The girls will need serious mental counseling and psychological support as soon as possible. They will be definitely traumatised
Another journalist, made the following submission "Which African team will allow is (its) senior national team to ride on a public transport?
"I was bitter when I saw that press release from NFF, rather than apologise for their negalence, the release was praising Pinnick. If we are in serious country, Amaju and his cohorts ought (to) have resigned from their positions.
Another journalist who also pleaded anonymity questioned the rational for taking the ladies on sightseeing through public transportation.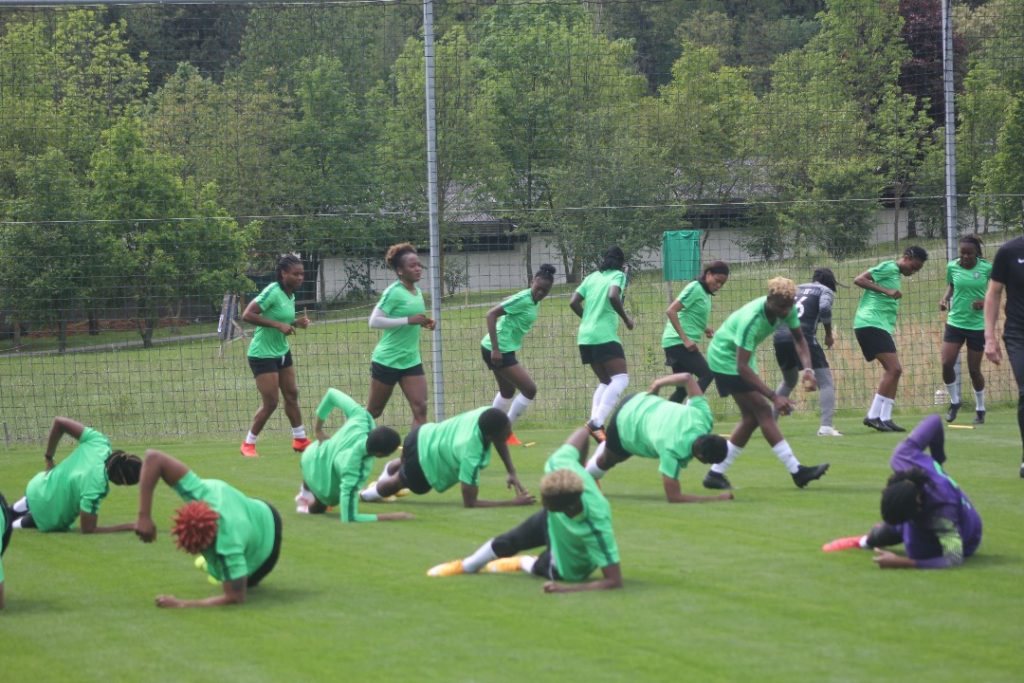 "Why were they in a public bus? Even if they were going on a tour, they should have a private transportation and a tour guide to go with them. You are in a foreign country and what if he wasn't African but one racist idiot that would open fire?
"They couldn't even apologize for their negligence and security laxity. Apologize and tell us it won't happen again. Bunch of incompetent people.
"If you wanted them to go on a tour, pay for the bus and condone other passengers from coming in or joining them. I am really pissed right now. What if something worse happened to them?
"Take necessary steps to get him arrested. You are telling us that he was bundled out? Like seriously? You couldn't call the police on him immediately, you waited till the next stop to bundle a sack of potatoes out of the bus.
"For the people that wanna justify the NFF's statement. Why would you expose the team like that in this covid era? Other passengers are there, contact is made with them and you come back into the country with maybe a suspected covid case after you have equally flown with other people in the same airplane and made contact as well.
"The Nigerian govt should query them for exposing the players to covid 19″
US As the Centre Of Gun Violence, Killings in Years
The United States of America has recently become the epic centre of gun violence with over eight thousands killed within the first five months of the year 2021.
By almost every measure, 2021 has already been a terrible year for gun violence in the USA. Many fear it will get worse. few weeks ago more than 120 people died in shootings, with three especially dangerous incidents in Austin, Chicago and Savannah, Ga., leaving two dead and at least 30 injured.
Through the first five months of 2021, gunfire killed more than 8,100 people in the United States, about 54 lives lost per day, according to a Washington Post.
That's 14 more deaths per day than the average toll during the same period of the previous six years.
Among this figure, five people were killed in Austria in November last year in a gun violence at a Synagogue.
According to reports, gun violence this year has cut through celebrations and funerals, places of work and houses of worship. It has taken lives at a grocery store and in a fast-food drive-through lane.
It is in a country and city with this magnitude of gun violence that the Nigeria Football Federation, NFF exposed Super Falcons players to without adequate security measures.
The question begging for answer remains "What if the attacker was a gun-wielding mentally derailed man and on getting into the coach opened fire on the players and officials?