36 Lion FC Withdraws From NNL, Alleges Biased Officiating, Frustration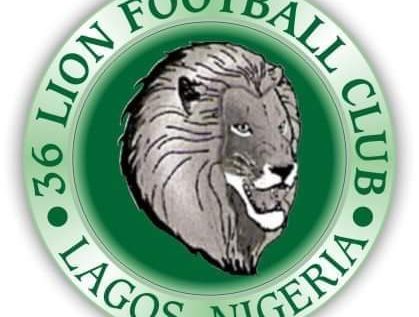 By Our Correspondent
A foremost football club in Lagos, Nigeria, 36 Lion FC have withdrawn from the Nigeria National League, NNL for at least two seasons over alleged bad officiating by referees and frustration, Bestchoicesports.com.ng can report.
The Chief Operating Officer, COO and chairman of the club, Kazeem Omotosho disclosed this in a letter he dated October 24, 2019 addressed to the Chairman of Lagos State Football Association as well as the copied the General Secretary, Nigeria Football Federation; Director General Lagos State Sports Commission and the Chief Operating Officer, Nigeria National League.
In the letter, the COO alleged that the club endured unfair officiating from the match officials in their home and aways games as well as interference of some highly placed individuals in the Lagos State FA in the matches concerning the club.
Citing instances the club was alleged to have been unfairly treated, the management concluded that the club had decided to forgo its slot in the league in order to avoid "bloodshed."
The letter reads:
We write to notify your good office that 36 Lion Football Club will not be participating in the 2019/2020 Nigeria National League Season due to rumors reaching us that the powers that be in Lagos State Football have decided to frustrate our team this upcoming season due to reasons best known to them.
We struggle to survive and stay afloat last season, 2018/2019. MISTAKE CALLS from all the referees that officiated our matches both home and away were rampant and flagrant. The most significant which nearly caused mayhem on Sunday 30th of June 2019 at Agege stadium was our week 10 match vs. Stationery Stores of Lagos. It was 0 – 1 first half in favor of 36 Lion FC, the match officials did not come out to restart the second half until 25 minutes later. They were allegedly waiting to get instruction from a high rank stakeholder that Stationery Stores must not lose that match.
Every single move by 36 Lion FC was frustrated until 90th plus 14 minutes added time when the center referee (name withheld) awarded the most crooked penalty we've ever seen in football to Stationery Stores.
At this point, the agitation from the spectators became uncontrollable, but the timely intervention of our adviser, Hajji Gafar, calmed the situation. The awarded penalty was also shot over the bar and that was the last kick of that game.
Restoring sanity and calming the crowd was the most challenging situation of our football experience. As you are aware that the League body does not tolerate fans disturbances at matches, but how can we prevent fans from reacting to unfair and what looks like deliberate bad officiating from match officials who, as rumor has it, were said to have been directed by power that be in Lagos State Football to frustrate us out of football management, to extinguish our core concept of youth development and youth empowerment.
We can't continue to spend our hard earned money on the development of football and empowerment of young boys who have chosen football as a profession when, according to flying words, few people in the Lagos FA are bent on frustrating us. 36 Lion FC has been a Lagos darling team for 19 years with a fan base of over five thousand hard core lovers of the game, and also another ten thousand fans cutting across social media with six thousand six hundred and twenty on Facebook alone.
There has also been a vow by our supporters that referees who come and cheat us this coming season will not leave the stadium unhurt. The emotional trauma for our players and officials are also immeasurable. We can control our players and officials but that of our fans has proven very difficult. We've had meetings with our various supporters club coordinators in Lagos Island, Surulere (Shitta precisely), Mushin, Oshodi, Agege, Ikorodu and Badagry which yielded nothing positive.
In view of the above and to avoid a possible bloodshed in our stadium, we won't be participating in this upcoming season or maybe two more seasons to come until the baton in the day to day activities of Lagos State Football changes hand.
However, we shall continue our other football activities. Our training sessions will be the same. We will try and participate in the Lagos FA cup so as to continue our investigation and also to try and ascertain the rumors.
Thank you.
Yours Faithfully,
Kazeem Omotosho.
COO.
cc: The General Secretary, Nigeria Football Federation
cc: Director General Lagos State Sports Commission
cc: Chief Operating Officer Nigeria National League