Athletes Intensify Training Ahead Of 2020 National Sports Festival At TAFCAN Meet
By Amaechi Agbo
With just a few weeks to the Sports Festival, athletes are making the best use of local competitions in their states to get into rhythm for the showpiece in Benin. The TAFCAN meet was held in Lagos and it was one of the events that the athletes used to test their strength ahead of the festival.
Taking a break from 400mH, Sodiq Adebisi was back in the event where it all started for him, competing in the 800m. Adebisi posted a time of 1:56.83 to win it, with Emmanuel Akpan 2nd in 1:57.07 & Seun Olaniyi moving up another lap from his regular 400m to finish 3rd in 1:57.07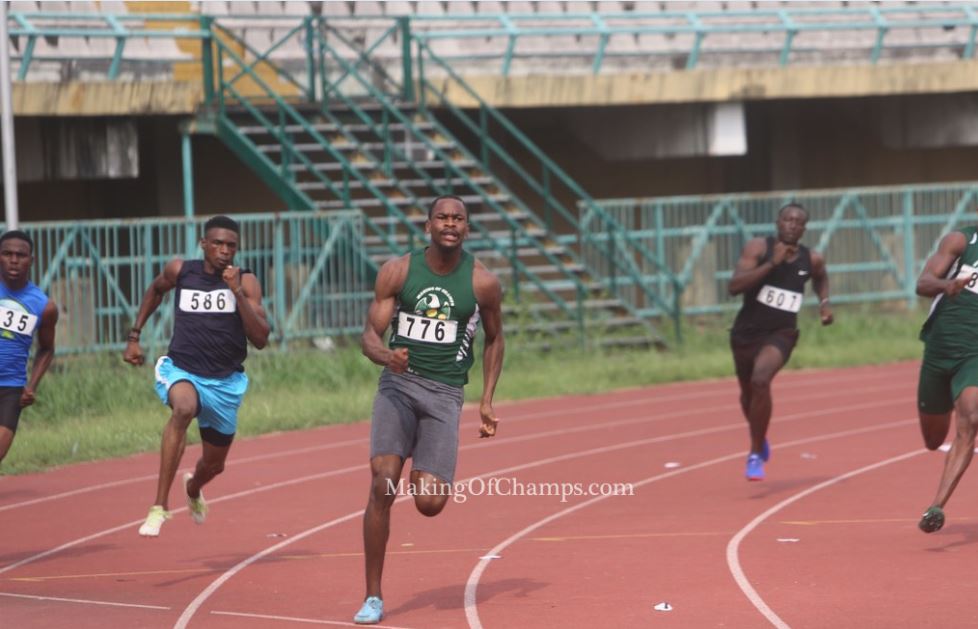 In the women's 400m, Adewunmi Adewale was the fastest of the three heats, winning heat 1 way ahead of Ada Bright who came in 2nd. While competing in Asaba, Adewale finished 4th in 55.88s but improved on that time to post 55.39s today, as Bright settled for 2nd place in 57.09s.
Heat 2 of women's 400m was second-fastest overall, as Blessing Oladoye led an MoC 1-2-3 in the race to easily take victory in 56.89s. Moyosore Badejo was a clear 2nd place finisher, crossing the line in a 400m PB of 57.29s, as her teammate Mercy Umoibang finished 3rd in 58.81s.
Not the first time he is attempting the 400m. Jerry Jakpa was the fastest overall in this event today, running a measured race with a very big lead over his closest competitors, getting to the line in 47.93s. Jare Folarin finished 2nd in 50.29s & Gafar Audu 3rd in 50.47s.
Making of Champions reports that in a battle of teammates in 400m heat 3, John Clifford wasn't going to allow Gracious Ushie catch him, after bolting out in the first 200m. Clifford felt Ushie on his tail, but held on strongly to cross in a Personal Best of 48.21s. Ushie also ran a PB of 48.36s to finish 2nd.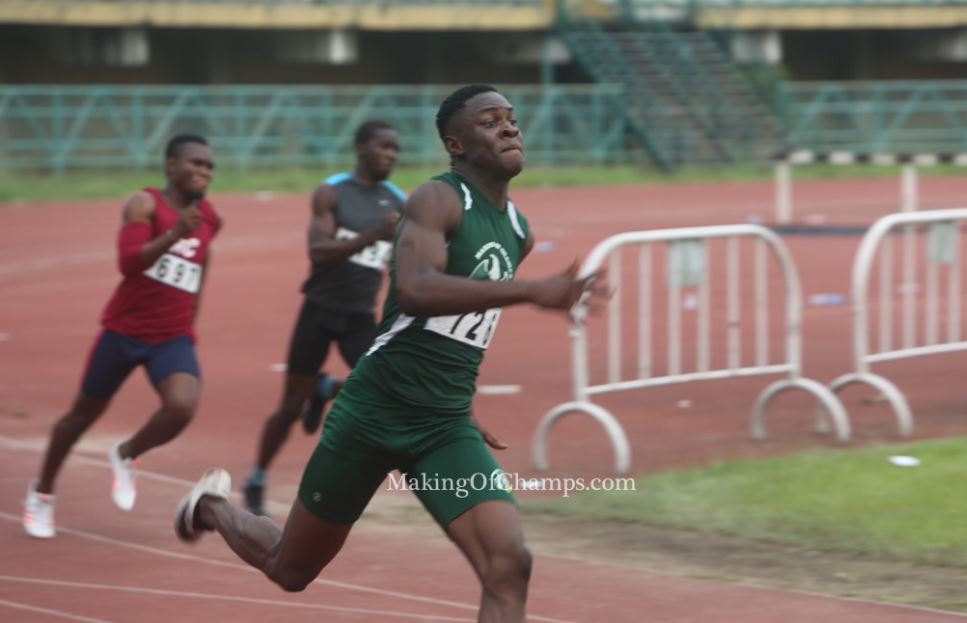 Competing against able-bodied athletes, MoC and Nigerian Para-athlete, Ifeanyi Christian went under 50s for the first time in his career, finishing 3rd in men's 400m heat 1 with a time of 49.95s. That race was won by Bunmi Lateef who clocked 48.91s & Segun Sewankan 2nd in 49.06s.
To some results in a few field events that were held today. Chukwudi Emmanuel won the men's Long Jump, recording a mark of 6.87m to secure the win. While in the women's category, Alimat Alowonle who is now trying to combine the Sprints & the jumps, won with a mark of 5.85m.
Although the High Jump is his main event, Cyprian Oyedele has been trialling his abilities in the Long Jump for some time now. Oyedele who has a High Jump PB of 2.10m, today leapt a mark of 6.30m in the Long Jump. He has jumped over the 7m in the past and has a PB of 7.07m
Trailing for the most part of the race, Adams Lawal did his best to catch up with Steve Fikah right after the 10th barrier in the men's 400m Hurdles, pulling off a win in 55.04s as the latter settled for 2nd place in 55.49s and Rilwan Olowu 3rd in 56.72s
Having finished 5th in the women's 100m Hurdles at #OPCAM2020, Miracle Thompson got a taste of victory today as she continues to cement a foothold in this event, racing to victory in a time of 14.91s (-3.2) ahead of Sekinat Alowonle who was 2nd in 15.66s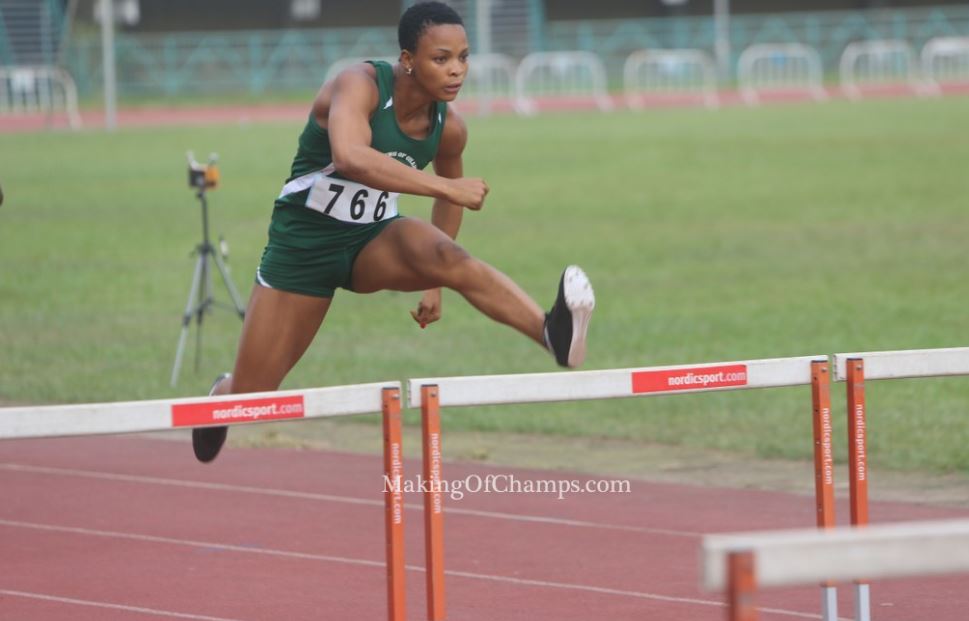 Although a quarter-miler, Amarachukwu Obi has focused more on the shorter sprints in 2020, and was the fastest qualifier in the women's 100m, winning heat 2 clocking 11.77s (+2.1). Obi caught up with Balikis Yakubu midway in the race, with the latter finishing 2nd in 11.83s.
Back competing in the shorter sprints to continue on his finishing speed, MoC's Emmanuel Ojeli was showed what he is capable of, posting the fastest time across all heats to win heat 3 in 10.48s (+1.9). Kingsley Bassey finished 2nd in 10.85s & Samuel Joseph 3rd in 11.08s.
For MoC's Ayo Adeola who ran his 1st competitive 100m race today, he had a Personal Best performance to cheer about, winning heat 2 of men's 100m in a time of 10.90s (+0.8). Adeola is a quarter-miler, but has mainly competed in the 200m in 2020, and today ran a 200m PB of 21.80s
In a rematch of the heats, Amara Obi & Balikis Yakubu went up against each other again, competing in women's 100m final. Yakubu being in the lead, looked like she could edge it, but Obi came through to nick it in 11.73s (-0.7). Yakubu finished 2nd in 11.79s & Joy Ojo 3rd in 12.47
Being the favourite in the men's 100m final, MoC's Emmanuel Ojeli led from start to finish to easily get another victory in the bag, crossing the line in 10.53s (-1.1). Ebenezer Ojo finished 2nd in 10.74s, with Yusuf Hamed coming in 3rd in 10.99s
Running just a race today, Joy Udo-Gabriel opted to compete in the 200m, and was the fastest of the four heats. Udo-Gabriel won heat 1, getting to the line in 24.50s (-2.5) as Balikis Yakubu came in 2nd in 24.77s. Amara Obi was 2nd fastest overall winning heat 3 in 24.70s (-1.0)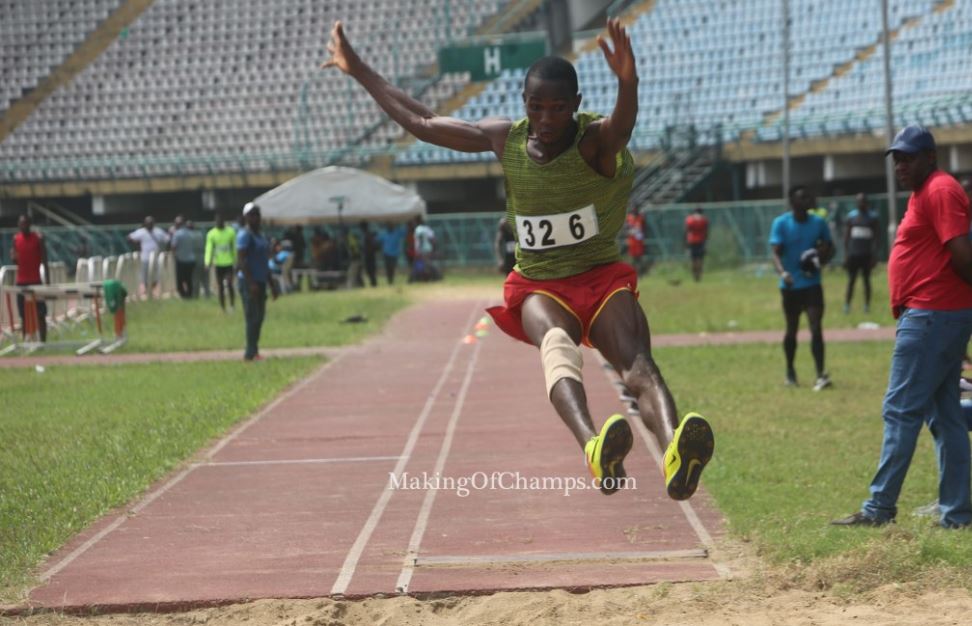 Lastly on the men's 200m: Jerry Jakpa was undoubtedly the favourite & he unsurprisingly emerged fastest overall, winning heat 7 in 21.37s (-0.1). His teammate Emmanuel Ojeli, posted the 2nd fastest time overall, taking heat 3 in 21.47s (-3.7) to close out a good outing for him.
The 20th edition of the 2020 National Sports Festival, NSF will hold from December 3rd to 18th, 2020 in Benin, the Edo State capital.