CKC Parish Wins Volleyball Championship As Catholic Youths In Abuja Mark Nigeria's 61st Independence Anniversary
1,017 total views, 6 views today
By Amaechi Agbo
The Christ the King Parish, (CKC) Kubwa has emerged champions of the 2021 Bwari Deanery Volleyball Tournament organised by the Catholic Youth Organisation of Nigeria, CYON, Abuja Archdiocese, www.bestchoicesports.com.ng can report.
Named 2021 Bwari Deanery Volleyball Tournament, the competition was organised by the youths in the Archdiocese of Abuja, Bwari region as part of activities to mark Nigeria's 61st anniversary.
In the final played on Saturday at the Government Secondary School, Byazhin, Kubwa, CKC Parish defeated their opponents, Church of Annuciation 3-2 to win gold medal while the runners up, Annuciation went home with silver.
Earlier in the 3rd-pleace match, St Augustine of Hippo Parish defeated St Matthew Parish Ushafa, 3-0 to win Bronze.
The 2021 Bwari Deanery Volleyball Tournament is part of the activities by the youth in the Catholic Church in Abuja to mark Nigeria's 61 years of nationhood with 10 parishes within the region taking part in the competition which took off in June this year.
Tagged "Green and White Day" with the theme: "Youth Against Fraud" the 2021 Independence Day celebration by the Catholic youths in Bwari Deanery is aimed at celebrating Nigeria's independence, her uniqueness and unity in diversity.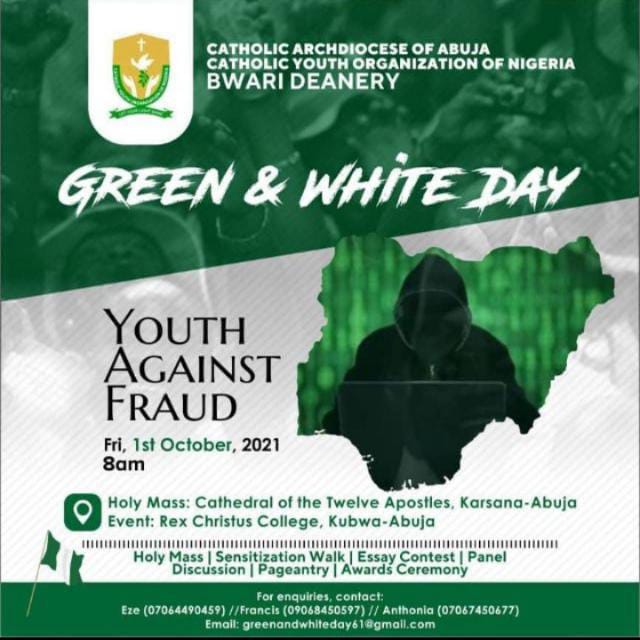 The event which is on its 10th edition will feature activities such as discussions, pageantry (Mr and Mrs Cyon) Essay writing competition, entertainment, awards, among others.
The event which holds on Friday, October 1, 2021 will commence with Mass at the Cathedral of Twelve Apostles, Karsana, Abuja by 10.
Thereafter, the event will move to Rex Christus College, CKC, Abuja.
According to Mr Henry Onyemachi a member of the organising committee in a chart with our correspondent, he noted that participants and invited guests will walk from the Mass venue to the event venue as a way of promoting trekking as part of exercise.
He added that dress code on the day is Nigeria's national colour of green and white.
Nigeria got her independence on October 1st, 1960 from erstwhile colonialists, Britain.