Jay-Jay Okocha Inducted Into The German Bundesliga Hall Of Fame
45 total views, 3 views today
Nigerian legend Austin 'Jay-Jay' Okocha has been inducted into the German Bundesliga Hall of Fame as confirmed on the German league's official website.
The former Super Eagles international and Eintracht Frankfurt midfielder joins Ghanaian legend and CAF deputy general secretary, Anthony Baffoe, in the 11-man legends network that will be flying the Bundesliga flag across the world.
Okocha made headlines in the Bundesliga during his days with Frankfurt and impressed with his quick feet, spellbinding step-overs and dream-like dribbles.
"His sublime skills and tremendous tricks brought joy to fans of Eintracht Frankfurt and lit up Germany's top division for many years, and now it has been announced that footballing icon Jay-Jay Okocha is the latest star to join the Bundesliga Legends Network," a Bundesliga statement reads.
"The newest member of an elite group of former playing greats to become part of the illustrious Bundesliga Legends Network, Okocha set Germany's playing fields alight between 1992 and '96 when the Nigerian ace scored 18 goals and provided 13 assists in 90 memorable matches for the team known as The Eagles.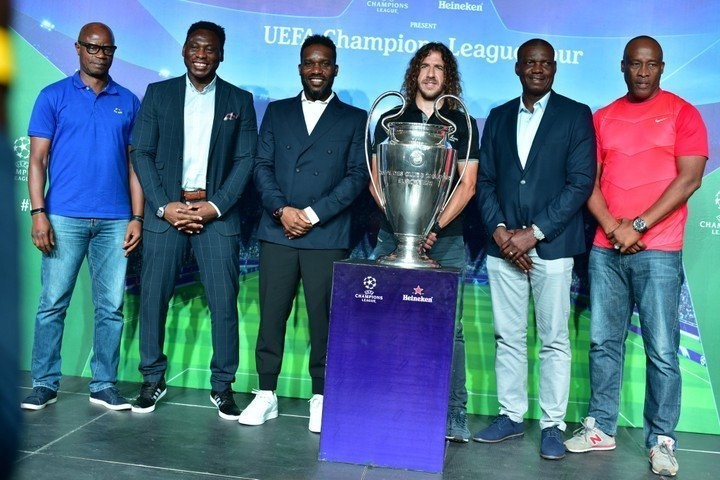 "Never to be forgotten among the sides he has represented, it is with warmth and delight that this footballing artist is remembered among the denizens of Eintracht while followers of the Bundesliga will forever continue to delight in the legend that is Jay-Jay Okocha. Welcome to the Bundesliga Legends Network."
Following his spell in Germany, the attacking midfielder took his skills to Turkish team Fenerbahce, Paris Saint-German in France and Bolton Wanderers in England, among others.
He won the Bundesliga Goal of the Year and Season, an Olympic Gold and BBC African Footballer of the Year 2x. An ex Bolton, Nigeria Captain. He was voted the Greatest Player in Bolton's Macron/Reebok Stadium. He was in Pele 125.
Okocha won the 2004 AFCON Golden Boot and Golden Ball. He holds the record for PSG's Quickest Goalscorer (67 seconds). He was in the 1998 World Cup All Star Team Reserve. He was the 2004-2005 Bolton Player of the Year. He won the Nigerian Footballer of the Year 7 times.
Okocha won the April 2003 BBC Goal of the Month and the November 2003 Premier League Player of the Month. He ins​​pired Mario Gomez to play Football. He mentored Ronaldinho, who inherited PSG's no. 10 jersey from him after he left, and calls him the 'Only No. 10 I admire.'