Referees Assault: FCT FA Suspends Galadima, AMU Football Clubs Indefinitely
1,973 total views, 3 views today
By Our Correspondent
The Federal Capital Territory Football Association, FCT FA has handed an indefinite suspension to Galadima FC and AMU FC from all football related activities within its jurisdiction.
The suspensions were issued against the team teams following attacks they allegedly perpetrated against referees in their matches at the ongoing Abuja Unity Football Cup
In the letter signed by the FCT FA Secretary, Mr Usman Haruna Ilerika, it added that the suspension is "temporary" pending the outcome of investigations on issues of hooliganism, assault on match officials and bringing the game to disreput.
"The FCT Football Association has temporarily suspended Galadima and A.M.U Football Club(s) from all football activities in the FCT pending the final determination of their case with the football body following the submission from AMAC football coaches' council and Nigeria football coaches Association, FCT Chapter.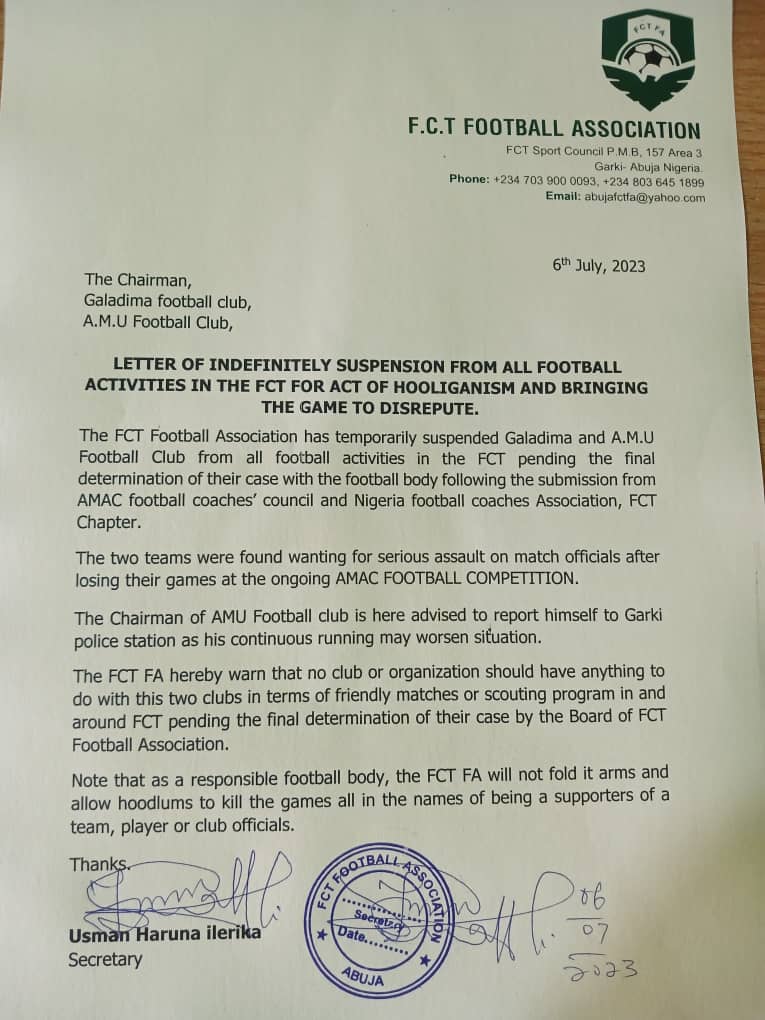 "The two teams were found wanting for serious assault on match officials after losing their games at the ongoing AMAC Football Competition," part of the suspension made available to our correspondent, read.
The FA further directed the AMU FC Chairman, Mr Ola Abdul to report himself to the police in the Federal Capital and stop running away from the law.
It further warned the general public and football stakeholders not to have business to do with the suspended clubs until their cases are decided.
"The Chairman of AMU Football club is here advised to report himself to Garki police station as his continuous running may worsen situation.
"The FCT FA hereby warn that no club or organization should have anything to do with this two clubs in terms of friendly matches or scouting program in and around FCT pending the final determination of their case by the Board of FCT Football Association.
"Note that as a responsible football body, the FCT FA will not fold it arms and allow hoodiums to kill the games all in the names of being a supporters of a team, player or club officials," the letter dated 6th July, concluded
Chairman of AMU FC and his players reportedly attacked the assistant referee I'm charge if their match against Derby FC on Thursday last week after they lost the match by 2-4.
IB Sports Dreams and Derby Football Academy will play the final of the Abuja Unity Football Cup organised by the AMAC Football Coaches Council.