Six Nigeria Weightlifters, Three Officials Jets Out For 2023 IWF Championship In Riyadh, Saudi Arabia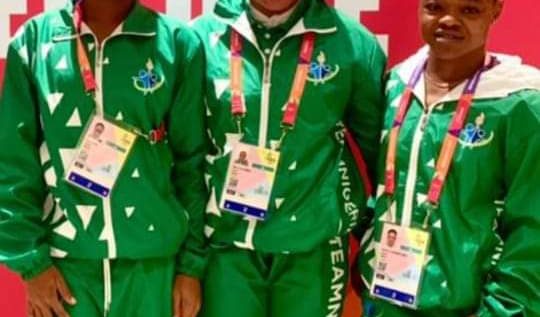 632 total views, 24 views today
By Amaechi Agbo
Six Nigerian weightlifters and three officials will on Tuesday, September 5th, leave Lagos, South West Nigeria for Riyadh, Saudi Arabia for the 2023 International Weightlifting Federation, IWF Championship.
The championship which also serves as Olympic Games 2024 qualifiers commenced on Monday, September 4 and will end on Sunday, September 17.
In a press statement signed by the Nigeria Weightlifting Federation, NWF Media Officer, Mr Amaechi Agbo, the Nigerian contingents made up of six weightlifters (two men and four women) and three officials will depart the Murtala Mohammed International Airport, Lagos on Tuesday via Ethiopia Airline by 1:30pm local time.
Nigeria will participate in six categories at the championship with Umofia Edidiong competing in 73kg and Akano Desmond in 89kg men categories.
Lawal Folashade Rafiatu and Olarinoye Adijat Adenike will compete in the 59kg women category while Eze Joy Ogbenne and Ayodele Ruth Imoleayo will compete in the 79kg and 64kg women categories, in that order
According competition schedules released by the IWF, Folashade Lawal and Adijat Olarinoye who both won three gold and three silver medals respectively at the 2023 Senior Africa Weightlifting Championship in Tunisia in May this year, will compete in the 59kg women's category on 7th September by 11.30am
Edidiong Umofia will compete in the 73kg men's category on 8th September by 12 noon while Desmond Akano will take his turn in the 89kg men's category two days later, on 10th by 9.30am
Ayodele Ruth and Eze Joy Ogbenne will compete in the 64kg and 71kg women's categories on the 10th by 2:30 pm and by 7:3pm same day, respectively.
Nigeria had a glorious outing in their first Olympic Games qualifying race in Tunisia four months ago when five athletes amassed 12 medals at the 2023 Senior Africa Weightlifting Championship in Tunisia, which also served as 2024 Olympic Games
The weightlifters who have been in camp for the past two months are optimistic that they would consolidate their Olympic Games 2024 qualification hopes in Riyadh
The 2023 IWF Championship has a record entries of 117 countries participating with 719 lifters made up of 365 men and 354 women.
Nigeria weightlifters will participate in three Championship qualifiers as they seek to return the country to the global weightlifting map in the 2024 Olympics Games in Paris, France.