Super Six To Decide 2021/2022 NWFL Champion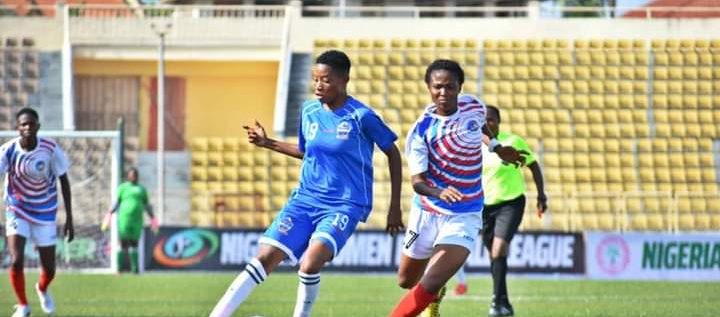 6 total views, 6 views today
By Amaechi Agbo
The 2021/2022 Nigeria Women Football League, NWFL Champions will be decided via Super 6, the league organisers have announced.
The NWFL in a statement on Monday said the champion of the abridged season will be decided among the top three teams in Northern Conference and Southern Conference.
The new season will be played in abridged format with the fourteen participating teams paired in Group A and B with 7 clubs each.
"The NWFL Premiership kicks off on December 8, 2021 in an abridged league of 7 clubs each in the Southern zone and Northern zone.
"Three teams from each of the zone will qualify for the NWFL Premiership Super Six," the league announced on Wednesday.
The NWFL revealed that, the hosting of the Super Six will go round all the Premiership Clubs. Interested clubs should indicate interest.
A total of 14 clubs are Participating in the league with four from the Northern zone while 10 came from the Southern region.
"There are only 4 clubs in the Northern zone: Nasarawa Amazons, Confluence Queens, Naija Ratels, Adamawa Queens, they were joined by three teams in the South: Pelican Stars, Osun Babes and Edo Queens to make 7 clubs," the statement said.
"The Southern teams are; Rivers Angels, Royal Queens, FC Robo, Delta Queens, Sunshine Queens, Abia Angels, and Bayelsa Queens."
Below is Matchday 1 Fixtures of the new season:
Group A
Nasarawa vs Bye
Confluence vs Pelican
Naija Ratels vs Osun
Adamawa vs Edo Queens.
Group B.
Royal Queens Bye
FC Robo v. Abia
Delta Queens v Rivers
Sunshine v. Bayelsa.