Team Hasso Are Champions Of 2nd Life Camp Female Captains Volleyball Championship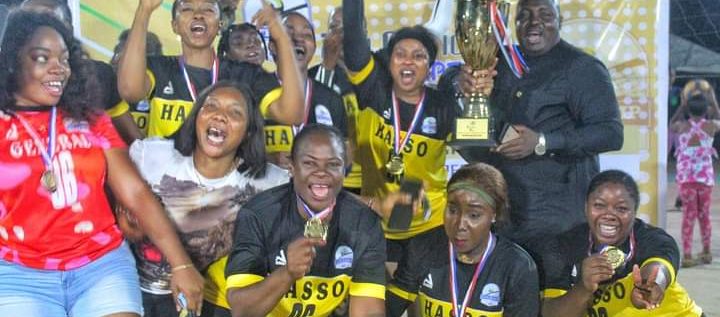 1,542 total views, 3 views today
By Amaechi Agbo
Team Hasso on Sunday emerged champions of the 2nd edition of Life Camp Female Captains Volleyball Championship in Abuja after defeating Team Taminu 3-2 in an epic final.
Organised by the Life Camp Volleyball Club, Abuja, Team Hasso avenged their 2-1 opening day defeat to their final opponents as they triumphed (22-25, 25-10, 25-22, 20-25, 18-16) in an entertaining final five-set in front of jam-packed spectators at the Jabi Recreational Park, Abuja.
Tagged "the battle of titans" by fans who trooped en mass to watch a classic display of volleyball by the ladies, Team Hasso, captained by Amara Gabriel show grit and stoicism as they overcome Team Taminu who had remained undefeated in the competition prior to the final.
Speaking after the final game, a former national U-17 women's player and Most Valuable Player of the championship, Chigoziem Nneoma, said that loss of concentration cost her side Team Taminu, victory.
"We lost a bit of concentration, the champions did more of defense which we lacked in our team. Next time we need to combine defense and attacking game."
The Chairperson Planning Committee of the tournament, Amusa Rabiat said the import of the tournament is to encourage female participation in volleyball
"The tourney is organized to bring female volleyball players together so as to keep playing the game. So far, we have been able to achieve the aim of organising the competition because a lot of players have improved in their game.
She added that the three-day tourney will spur many grassroots players to be invited into the national team.
Obiora Nwora, Director, Life Camp Volleyball Club Abuja, said, "we are doing our best to see that volleyball gets to the level of football in Nigeria. "It also shows that women are actually embracing sports and volleyball in particular and with this, volleyball will be more popular among Nigerians few years to come.
"This will help to develop the sport as you can see some grassroots players competing with those who are national team players. This means that the competition will produce more national team players.
Outstanding players received various individual awards which include Best Setter Award won by Mary Ishaku of Team Hasso while Best Spiker Award was picked by Lydia Daniel popularly known as Mangala.
Amara Gabriel won Defender Award; Uyoyou Udubra went home with the Best Blocker Award just as Esther Dominic won the Best Server Award.
MVP award was won by Chigoziem Nneoma, a former national women's U-17 player.
Apart from giant trophies and individual awards, the four teams that participated in the championship were financially rewarded depending on their efforts.
Winners, Team Hasso got ₦100, 000 cash prize. 1st runner up, Team Taminu got ₦70, 000. Team General got ₦50 000 as 2nd runner up, the bottom placed team in the tournament, Team Justice went home with ₦30, 000 consolation package.
The competition was sponsored by
Ikemi Asibong Eni