Why Kwara United Coach, Abdullahi Biffo Resigned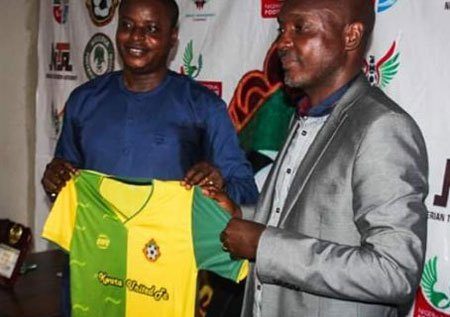 453 total views, 3 views today
By Ebube Dike
After weeks of speculations and threats, Abdullahi Usman Biffo has made good his words and have resigned from his position as Kwara United Technical Adviser.
Coach Biffo who sent in his letter of resignation from his base in Europe on Tuesday based his reason for calling it quit with the Nigeria Professional Football League, NPFL side on the query issued to him by the Kwara State Sports Commission.
In his resignation letter, Mr Biffo noted the query which he recieved from the state's sports commission late October accusing him of insurbordination for not attending the budget defence of the club as "malicious, lack substance and credibility while it also breaches the terms of my contract with Kwara United."
According to him, "I received a letter of query from Kwara State Sports Commission dated 25th October where I was accused of insurbordination to the Executive Chairman of the Commission for not attending his budget defence.
"The allegation and query seems malicious, lack substance and credibility while it also breaches the terms of my contract with Kwara United. I only signed contract with details of my job description in it. Besides at no time was an invitation to attend said commission budget defence sent to me," he said in the letter.
The former Niger Tornadoes and Katsina United Coach noted that he valued his work ethics and organised work environment adding that he was no longer comfortable working for the club
"As a professional football coach, I value work ethic and well organized environment. I am no longer comfortable working for the club anymore, as it is a clear indication of malicious power tussle between sports management heirachy in the state. It's not the best atmosphere for any Professional Football coach and me in particular to operate."
He added that quitting nthe job would enable him to concentrate on his health and thanked the club management, players, staff and fans for their support.
"Quitting the job will enable me focus on my treatment and health in US, while the club management finds a suitable replacement before the start of the new season.
"I sincerely thank the Chairman, General Manager, Coaching Staff and fans of Kwara United for their love and confidence in me. It has been a great pleasure working with you for over two years. One of the major highlights of my career was to work with such such a loving and exceptional management under the leadership of Chief Kunbi Titiloye who always insists on Professional best practice."
Mr Biffo joined Kwara United in August 2019 and spent two seasons with them. He led the club to 3rd place position at the end of the 2020/2021 NPFL season missing out on continental ticket.