Ebenezer Odeyemi: Brutalised By Nigerian Soldiers, Sacked By Shooting Stars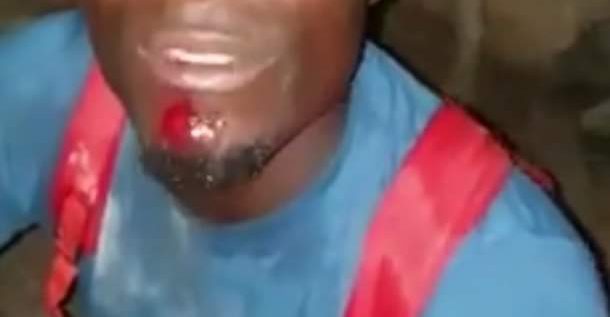 1,765 total views, 6 views today
By Amaechi Agbo
Less than 48 hours after he was Brutalised by a team of the Nigeria soldiers, Shooting Stars FC striker, Ebenezer Odeyemi has been sacked by the club Ibadan-based club, www.bestchoicesports.com.ng can report.
Odeyemi was in the news on Tuesday after a team of Nigerian soldiers brutalised him in a restaurant where he, along with three other players had gone to eat after their training in Ibadan, Oyo State capital
Although the Nigerian soldiers tendered apology and described their actions as "not deliberate" Odeyemi's contract with the club was terminated on Thursday along side 16 others.
The club claimed in a press statement signed by its media officer, Tosin Omojola that the 17 players were relieved due to poor performance.
"Shooting Stars Sports Club (3SC) of Ibadan have dropped seventeen (17) players, as the club aims to strengthen its squad for improved result.
"After a review of the performance of the Oluyole Warriors in the 18 week old 2021/22 season of the Nigeria Professsional Football League (NPFL), the management of the team has decided to release the said players.
"The affected players were released by the Ibadan soccer lords, after the technical crew painstakingly reviewed their performances, which fell short of expectations," the club said.
Four of the players, goalkeeper Tambe Charles, Anas Mohammed, Abubakar Adeyemi and Anene Francis, have been with the team for more than two seasons, while the remaining players are among those recruited before the commencement of the ongoing season.
The affected players are:
Tambe Charles
Egorde Oghenetega
Ebenezer Odeyemi
Wasiu Alalade
kola Daniel
Yusuf Habeeb
Anas Mohammed
Olunide Henry
Abubakre Adeyemi
Anene Francis
Kehinde Adedipe
Olasunkanmi Quadry
Amusan Taiye
Adelani Seun
Onwubuche Chimankpa
Wellington Ehiabhi
Meshack Amos
Shooting Stars are 13th on the Nigeria Professional Football League, NPFL 2022 table with 20 points from 17 matches.